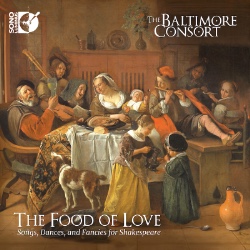 The Food of Love: Songs, Dances, and Fancies for Shakespeare

Their first album since 2009, The Food of Love: Songs, Dances, and Fancies for Shakespeare marks the beginning of The Baltimore Consort's 40th season. Joined by regular guest soprano Danielle Svonavec, the Consort has recorded their popular concert program of the same name, which features music from, for, and referenced in the works of Shakespeare.
There are hundreds of references to music in the works of Shakespeare. Shakespeare's music can be placed into three general categories:
Incidental Music: The individual titles of incidental music in Shakespeare's works are never named but the directions "music here," "music begins," "music for dancing," etc. are provided.
Literary References: Shakespeare refers to the music, music theory, and instruments of the time within the text of his works. A humorous example is found in the names of the musicians Peter confronts in Romeo and Juliet: Hugh Rebec, Simon Catling and James Soundpost.
Songs: Specific songs are included for performance in the text of Shakespeare's plays. Shakespeare authored the lyrics to some of these songs but also incorporated popular songs known to his contemporary audiences. The plays did not include notation of the tunes of these songs. However, we are certain that Robert Johnson's settings for "Full Fathom Five" and "Where the Bee Sucks" are the same as when originally performed in The Tempest. Johnson is well documented as Shakespeare's composer. For the other songs on the recording we are using the earliest surviving versions – both published and from manuscript – which are contemporary with Shakespeare's productions. These include, "It Was a Lover and his Lasse," "Farewell, Dear Love," "When Griping Grief," "Gravedigger's Song," and "Willow Song.
Tracks
The Buffens (Les Buffons)
Kemp's Jig
It Was a Lover and his Lasse
O Mistresse Mine
Peg-a-Ramsey
Farewell, Dear Love
When Griping Grief
My Lady Carey's Dompe
Complain My Lute
Heart's Ease (The Honiesuckle)
The Queen's Goodnight
Fancy
The Carman's Whistle
Cuckolds All a-Row
Whoope, Do Me No Harm/Jog On
The King of Denmark, his Galliard
Tarleton's Riserrectione (plucked strings)
Gravedigger's Song ("In youth when I did love")
Bonny Sweet Robin
Tarleton's Jig
Greensleeves
Where the Bee Sucks
Full Fathom Five
Fortune My Foe
Willow Song
Fairie Rownde
The Mad Merry Pranks of Robin Goodfellow